Dave Pensado is a grammy award winning mix engineer (1 win, 4 nominations) based in Los Angeles, California. Dave started out his audio career doing live and studio sound engineering in Atlanta. In the 90s he made the move (pilgrimage?) to LA and found himself working at the legendary Larrabee Studios where he cut his chops, mixing on an SSL desk. Around 2010 onwards, Dave started to find his in-the-box mixes were starting to sound better than what he was able to do in the studio (how's that for inspiration, computer music producers?). Pensado's studio is now based at Fab Factory where he specialises in creating radio-friendly records mixing pop, hip-hop, R&B, and Latin. The studio setup is based on a hybrid approach to mixing (In-the-box and outboard gear).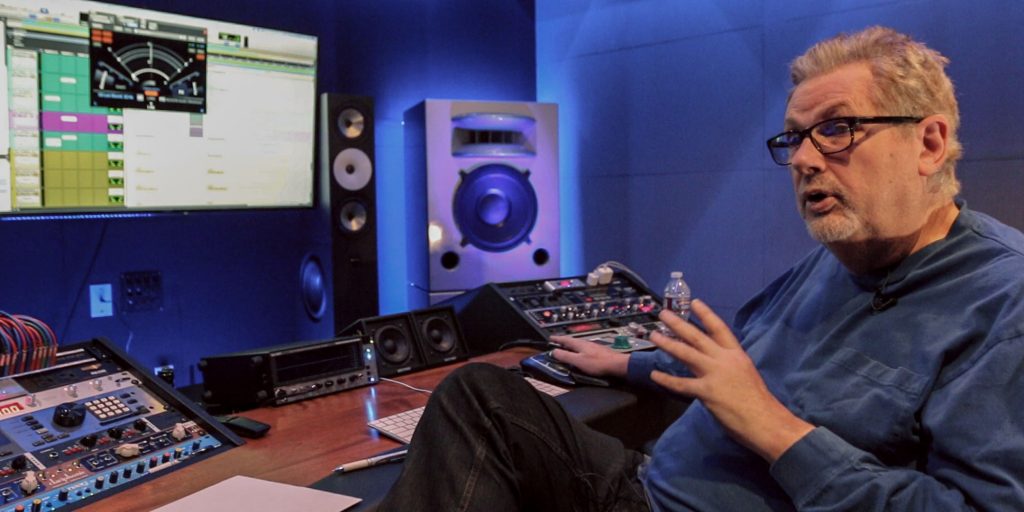 Dave Pensado's Studio
In the interactive studio photos below you can click on gear highlighted and learn more about each device. If a piece of gear is not highlighted it's more than likely listed in the gear database below.
Crane Song Avocet
The Crane Song Avocet is designed to solve the problems of accurate monitoring and volume control as required by studios and mastering rooms alike. The Avocet controller has three digital inputs, three analog inputs and a headphone system.
Reftone 2LD Stereo Pair - Reference Monitors
The Reftone 2LD reference monitors are modeled on the original Auratone 5c speakers. The Aurotones also known as 'horrortones' are speakers that sound like hell! If you can get your mix to sound good on these speakers - you've got a killer mix on your hands.
Alternatives to the Reftones/Aurotones are using an old school ghetto blaster, bouncing your track to your phone (the device the majority of people listen to music nowadays via streaming services...what a horror show, eh!). The Reftone company is ran by Dave Hampton who built custom versions for Prince & Herbie Hancock.
Analog Design – Black Box HG-2
The Black Box HG-2 is a distortion unit inspired by the Thermionic Culture Culture Vulture. The HG-2 is an incredible piece of outboard gear...true analogue-tube magic. For those working in the box - Plugin Alliance's Black Box HG-2 is worth checking out.
Kush Audio – Clariphonic MS 2-Ch Parallel Equalizer
Gear List Breakdown
Note: Some of the links below link to music stores and marketplaces and as a result Spectralplex may receive a commission if you purchase gear via the links (Reverb, eBay, Amazon).
Studio Gear Used On Every Mix
On one of Pensado's Place tutorials Dave shares 3 pieces of gear he uses on every mix…
The Locomotive Audio 14B Compressor

The 14B Compressor gets you the sound of real vari-mu tube compression – a sound that cannot be replicated with any other method of gain reduction.
http://www.locomotiveaudio.com/14B.html
The Overstayer Audio M-A-S Compressor

The Overstayer M-A-S gives you the harmonic character and peak rounding of classic recording and mixing chains in a simple, highly controllable rack-mount unit.
You can use the M-A-S Compressor on individual tracks for cumulative benefits. The M-A-S can add consistency as peaks and harsh transients get smoothed and absorbed into the performance, making balancing tracks in the mix easier, and lessening the need for bus limiting down the line. Alternatively, using the compressor on a full mix, the added harmonic content can energize, and add cohesiveness and detail.
http://www.overstayeraudio.com/m-a-s/
Black Box Analog Design HG-2 Compressor
The HG-2 was recently ported to VST by the audio wizards over at Plugin Alliance. So if you've not got $2k to drop right now you can get the VST at a fraction of a price. Huge fan of the HG-2 here at Spectralplex with it sitting on the 2-bus.
Get a full tour of Fab Factory with Warren Huart (Produce Like a Pro).
Pensado's Plugin List
| Plugin Type | Plugin Developer | Plugin Name |
| --- | --- | --- |
| Audio Repair | Izotope | RX7 |
| Bass Resonance | Little Labs | VOG |
| Channel Strip | Brainworx | Focusrite SC |
| Channel Strip | SSL | SSL Native Channel Strip |
| Channel Strp | DMG | Track Control |
| Clipping | Sir Audio Tools | StandardClip |
| Compressor | Elysia | mpressor |
| Compressor | SSL | Master Bus Compressor (AUD) |
| Compressor | Slate Digital | VBC (FG-MU) |
| Compressor | Waves | API 2500 |
| Compressor | Boz Digital Labs | Manic Compressor |
| Compressor | Joey Sturgis Tones | Gain Reduction |
| Compressor | Plugin Alliance | XLA-3 |
| Compressor | U-HE | Presswerk |
| Compressor | Acustica Audio | El Ray |
| Compressor | Audified | u73b |
| De-Esser | Fab Filter | Pro DS |
| Delay | Line 6 | Echo Farm |
| Delay | Overloud | ECHOSON |
| EQ | Oeksound | Soothe |
| EQ | Soundtheory | Gullfoss |
| EQ | Dangerous Music | Bax EQ |
| EQ | Universal Audio | Brainworx bx_digital V2 EQ |
| EQ | Acustica Audio | Pensando EQ |
| EQ | Overloud | Overloud - EQ550 |
| EQ | Acustica Audio | Amber 2 |
| EQ | Kush | Hammer DSP |
| EQ | Softube | Tonelux Tilt |
| EQ | DDMF | Directional EQ |
| EQ | Overloud | Gem EQ550 |
| EQ | SPL | Vitalizer MK2-T |
| EQ | Waves | F6 |
| EQ | Acustica Audio | Diamond EQ |
| EQ | Tokyo dawn labs | Slickeq |
| Guitar Amp | Line 6 | Helix Native |
| Harmonizer | Eventide | H910 Harmonizer |
| Harmonizer | Waves | Doubler |
| Limiter | McDSP | ML4000 Limiter and Multi-Band Dynamics Processor |
| Limiter | Waves | L2 |
| Limiter | Avid | Pro Limiter |
| Limiter | DMG | Limitless |
| Mastering | Slate Digital | FG-X |
| Mastering | Izotope | Ozone Mastering Suite |
| Mastering EQ | Kush | Clariphonic Parallel EQ |
| Mastering EQ | Plugin Alliance | bx_digital V2 |
| Multi-Effects | U-he | Uhbik |
| Multi-Effects | Heavyocity | Punish |
| Panning | Boz Digital Labs | Panipulator  |
| Pitch | Antares | Auto Tune |
| Pitch Correction | Melda | Melda mautopitch |
| Plugin Wrapper | DDMF | Metaplugin |
| Preamp | UAD | Helios Type 69 |
| Reverb | FabFilter | Pro-R |
| Saturation | Kazrog | True Iron |
| Saturation | Vertigo | VSM-3 |
| Saturation | Softube | Saturation Knob |
| Saturation | Soundtoys | Decapitator |
| Saturation | Sly-Fi (Kush) | Kaya |
| Saturation | Black Box | HG-2 |
| Spatial EQ | Mathew Lane | DrMS Spatial processor |
| Stereo Width | Nugen | Stereoizer |
| Transient Shaper | SPL | Transient Designer Plus |
| Vocal | Waves | Vocal Rider Plugin |
Plugins Used On Every Mix
In episode 208 of Pensado's Place, Dave shared 5 plugins he uses on all his mixes – quite a few of them leveraging machine learning / A.I.
Soothe – Oeksound
Soothe by Oeksound is a dynamic resonance suppressor for mid and high frequencies. Unlike traditional EQ-tools, soothe analyses the signal on the fly and makes frequency-wide adjustment in real-time. The plugin is fast becoming a must have tool for all mixing engineers around the world.
Gullfoss Intelligent Automatic EQ
Another artificial intelligent equalizer – Gullfoss listens to a signal and help you get better polished mixes while sorting eq issues in real-time. Arthur C. Clarke famously stated "Any sufficiently advanced technology is indistinguishable from magic". Put this EQ on your master and you'll hear exactly what he means. Magic indeed.
Kazrog – True Iron
Classic Analog Transformers, In The Box! True Iron is a NAMM TEC Award nominated plugin made by Shane McFee. The plugin accurately emulates 6 classic line transformers, known for their use in many of the biggest names in vintage analog outboard sound processing.
Overloud – ECHOSON
The Overloud ECHOSON is a Gem Series magnetic drum delay plug-in offering vintage-style echo and delay. Its unique tone defined the sound of the '70s.
Acustica Audio – El Rey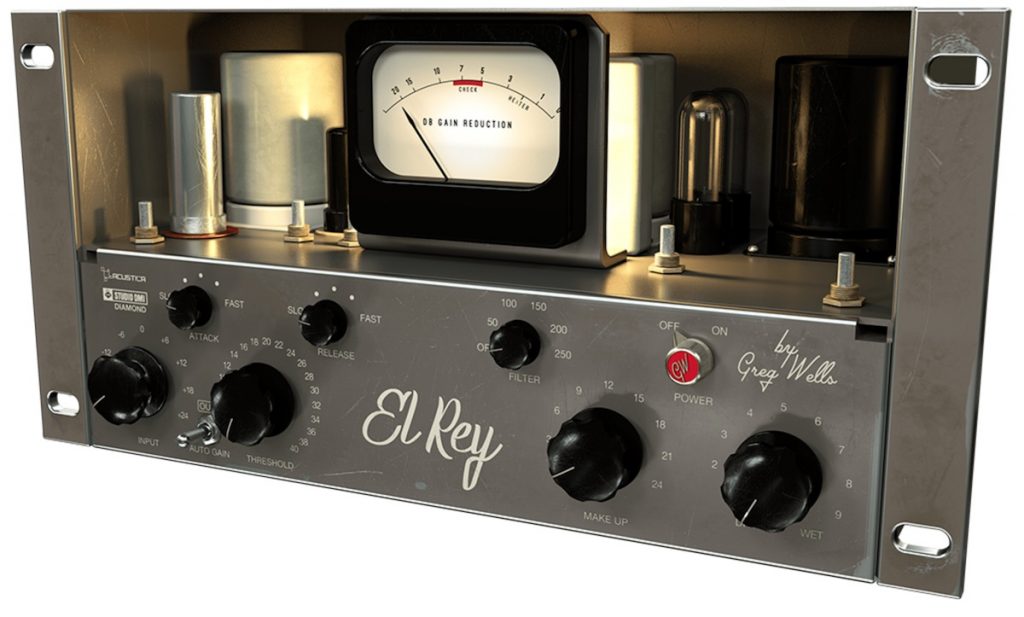 In partnership with Greg Wells & Studio DMI – Acustica Audio took one of the finest and musical sounding analog tube compressors (The RCA BA-6A limiting amplifier) and introduced unprecedented musical compression to the digital domain. El Rey sounds incredible on vocals and the drum buss.
Eventide – H910 Harmonizer
Released in 1975, it was a digital multi-EFX device from the future. Famously described by Tony Visconti as a digital processor that "fucks with the fabric of time" on a pre-album phone call with Bowie and Eno. This device is now available in software format and a great weapon of choice for those who love to create unique combinations of pitch shifting, modulation, and delay effects to warp tracks into hyperspace. As used by Bruce Swedien on the legendary "Thriller" Album.
---
Pensado EQ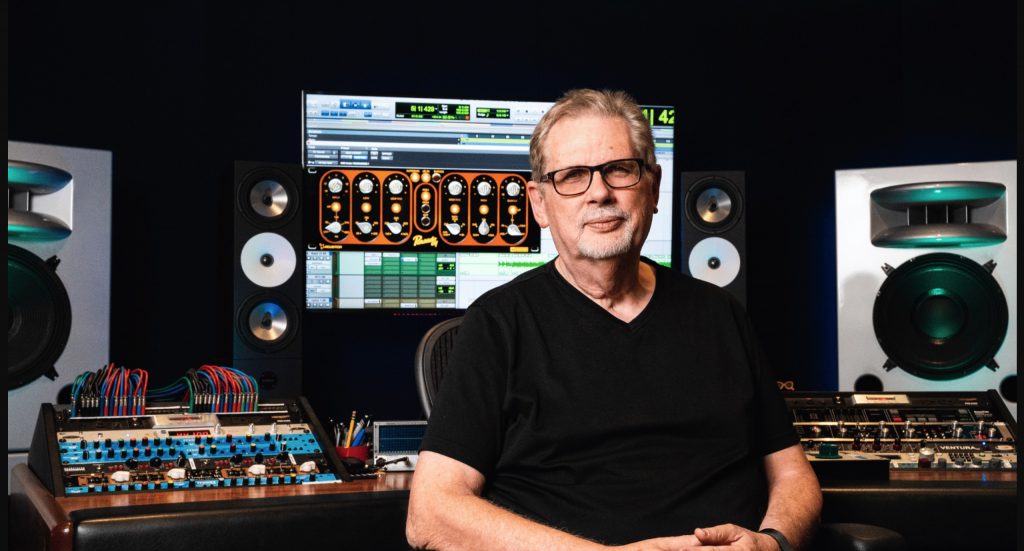 The Dave Pensado EQ is the result of an obsessive analysis of all the fine details that characterize Dave's unique workflow and approach to mixing. The EQ features four strategically selected frequency bands, LP/HP filters and two selectable preamps for extended analogue flavor. Each frequency band emulates different hardware machines (word is over 40 machines were sampled to create this VST!) that Dave has used over the years and have contributed to crafting his sonic trademark.

As expected Acustica knocked it out of the park in terms of audio quality – the Studio DMI Diamond plugins are insanely good – Pensado's EQ is up there with them. True audio nirvana all in the box!
---
Pensado's Place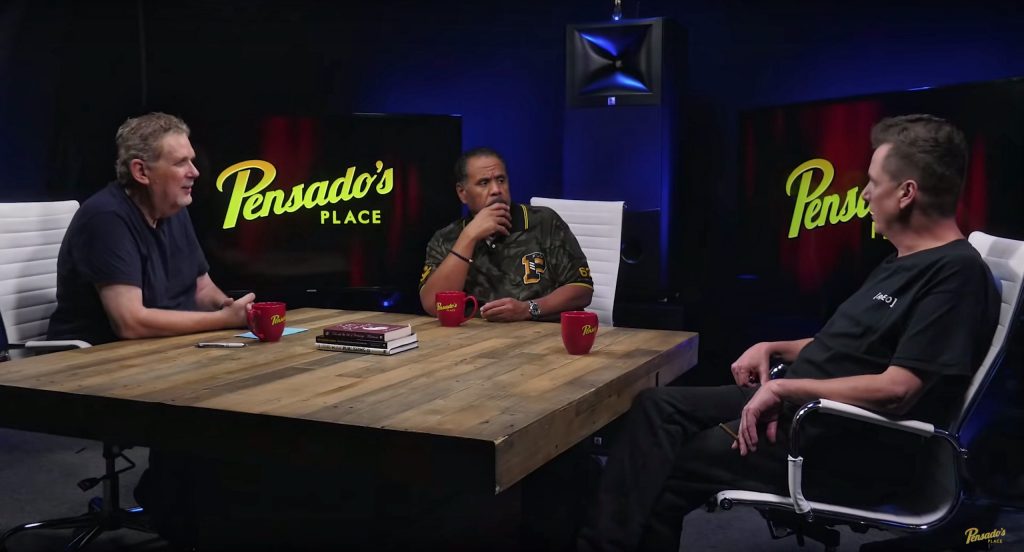 When not mixing 200+ records a year, you can catch Dave with industry veteran Herb Trawick talk all things audio in their weekly show, Pensado's Place on Youtube.
Pensado's Place has been running since 2010 (now over 470+ episodes!) and interviews the worlds best engineers and producers. Notable and insightful interviews include Mike Dean (Kanye West, Madonna, 2Pac), Mick Guzauski (Earth, Wind and Fire, Eric Clapton, Daft Punk), and Young Guru (Jay-Z). My personal favorite interview by Dave is episode 56 with Steve Duda of Xfer Records – the developer of the incredible Serum VST Synthesizer, Cthulhu, and LFO tool. This interview was prior to Steve releasing Serum and contains an insane amount of music production insights for electronic music producers.
TEC – Hall of Fame Award
At the 35th NAMM – Dave & Herb received the TEC (Technical Excellence and Creativity) Hall of Fame Award for their incredible contribution to the audio world for their great work & knowledge sharing.
On top of Pensado's place and non-stop record mixing – Dave has recently collaborated with Acustica Audio and Studio DMI to produce his very first VST – The Pensado EQ.
Pensado's Mix Credits
Dave Pensado's mix credits include work with Michael Jackson, Elton John, Beyoncé, Flo Rida, Seal, and Mary J Blige. It was the work with Blige on the album Growing Pains that Pensado won a Grammy Award alongside engineers Jaycen Joshua and Kuk Harrell.
Dave Pensado Producer Tips
Dave's philosophy on using gear…
"I remember when I only had one or two pieces of gear. I knew these things inside and out. I could get them to do things that other people didn't know how to do because necessity is the mother of invention So don't don't be envious if you don't have the newest, greatest piece of gear, everybody on the internet is talking about. Master what you've got and then grow into what you need."
I'd much rather mix a record or hear a record with someone that was really, really good with their gear and can get nuances out of it than somebody that just got a bunch of stuff and didn't know how to use it"
Dave shares 15 mixing tips and his philosophical approach to music in a great interview with Landr. Here are 5 of my favorite mix tips from that interview…
Listen on different systems to make sure your mix works (Dave tests his mixes on different devices including his phone – sadly the device where the majority of people will experience your mix!)
Room treatment is super important. (Spectralplex note: If you're unable to treat your room at this stage – look into using Sonarworks 4).
Use a reference track. Even with different genres. Turn down volume and mix towards it.
You are selling your taste, not your skills (🔑🚪).
Mixing is not something you add to the production, it's what you do to finish the production.
Dave uses a lot of great hardware gear and plugins to get the sound he wants. He has one favorite saying though, that should resonate with all mix engineers and producers….
"It's better to sound new, than to sound good"

Dave Pensado
You can spend your life trying to sound good with gear – what the world wants is to hear something new. I hope you enjoyed this gear breakdown of Dave Pensado's studio setup – if you want to explore other producers/engineers studios check out this link for more studio inspiration.